Happy Tuesday friends!
I have been sharing my challenges of my large class this year (honestly, it's only been 4 days!) I got to thinking today as I was reading some comments, that I hope I have sounded defeatist or overly negative.  Is this year a challenge unlike others, ABSOLUTELY!  Do I have a large class?  The largest ever!  Behavior challenges?  Two extreme.  ELL with no Enlglish?  Check.  But guess what?  These are my little monsters and my charges and WE CAN DO THIS!  WE WILL DO THIS!
Despite my personally observed negativity, today was a much better day!  I have mentioned my ELL friend and her challenges.  Today was a roller coaster.  She really acted out (hitting, throwing things!) and then I brought her older sister from 3rd grade and WOW did we have a major breakthrough!  She sat down in her chair!  She colored!  SHE WROTE HER NAME!!!!!!!!!!!!  She went outside and played.  And here is the best part…
I was watching her from a far (not really that far, but you get the point!)  I saw two of my sweet girls go over to her.  They just stood beside her and waited.  When my friend looked at them, they just waved and smiled.  As they stood there, my friend reached over and grabbed my shy ELL friend's hand and they just held hands!!  And my shy ELL friend SMILED!  Then they all got on the swings!
I got some high fives from her!  She sang with us!  She lined up and walked in line!
Friends, I have not stopped smiling.  I might have even shed a small tear.  It was a GREAT day and renewed my hope that this is going to be a great year.  In fact, I know it will be a great year.
WE CAN DO THIS!
Also, I hope you will all join my linky party about the funniest things a student has said to you!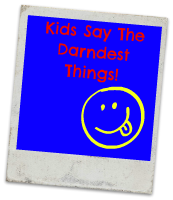 Join The Newsletter
Subscribe to get our latest content by email.