This is the major landscaping project that has been going on for 5…yes people, I said FIVE…months.  True story.  I'll spare you the details but the fence was done a month ago and they're finally here finishing the landscaping.  Today they built the wall and planted!  Monday they will do all new sod!  I am so excited about this yard!!!
Tuesday of this week I made a road trip to Kentucky for my first ever Kindergarten Smorgasboard School visit!  I met some awesome teachers and got to have dinner with some of my fabulous blogger friends!  I love these ladies!!  And seriously, how beautiful are they?!
Last night we got all dressed up for dinner at The Loveless Cafe!  If you ever get to Nashville call me and we'll go to dinner there.  It's some of the best food around.  I ate some friend chicken, corn, mashed potatoes, and mac and cheese.  And the biscuits…to die for!
How cute and stylish are we?!
I found these awesome fingers at Target for $3 and I just had to have them.  These are going to be amazing for guided reading groups.  Who wouldn't track their print with these fingers?!
Oh Target…how I love thee!
I am officially kicking off the newest feature on my blog!  It's time for my first Fabulous Friends Friday!  Way back when I started this manly little blog, I was so blessed to get some support from amazing people.  I can still remember the feeling I got when The 3am Teacher shared my blog on her blog.  I was ecstatic.  Without that support and encouragement, I wouldn't be where I am today.  So, I want to pay it forward by introducing you to some of my fabulous blog friends!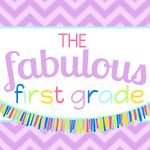 Meet Sarah of The Fabulous First Grade!  But now Sarah is teaching Kindergarten…the best grade EVER!
Sarah says:  "Nothing is hopeless, it's possible for every child to be successful, even your special friends 🙂 Hopefully some of my ideas and products will help put you in this mindset!"

Recently, Sarah sent me her Fall math and literacy centers! They're so cute and fun! I've printed them and they're ready for the 'staches when we return next week! They're seriously cute! I especially love the Pumpkin Power letter game!


Click the picture to check out this great resource!

If you would like to be featured as one of my Fabulous Friday Friends, click the picture to fill out the form!

Sarah has also agreed to give one lucky winner her Fallin' For Fall centers! And i'm throwing in my newest Common Core creation! Check out Scotty Scarecrow!


To enter, just leave a comment with a favorite fall/halloween/scarecrow activity you do in your class!  And your email!  I will choose a winner tomorrow!  
And if you want to pin these fun things…even better!  
Join Our Newsletter
Subscribe to get our latest content by email.