It's time for the pumpkins!!   Learning about pumpkins is always a favorite in kindergarten!   And we love using our Pumpkin Research Project to get a hands-on learning adventure with pumpkins!   This pumpkins research project gives students experience with research, writing, higher-order thinking, vocabulary, and pumpkin centers!   And it's fun!  And that's what matters most!  Making learning fun!
As always, we kick off our pumpkin research project or pumpkin unit with a schema map!  We share our schema (what we know) about pumpkins.  As we learn about pumpkins we add our new learning and finally, we address any misconceptions!
Our research projects center on read alouds and videos for the research and class charts for recording our learning.  The students use the class charts to write in their research journals.  THEY LOVE THEIR RESEARCH JOURNALS!   I love that our research projects give them a consistent structure!
The true/false sort is one of the last activities we do in our research projects and is a great way to bring higher-order thinking into your classroom.  This is also an opportunity to have some great academic conversations about what makes a statement true or false!
We measure ourselves using pumpkins!  We talked about estimating and how we were making a SMART guess and then we estimated how many pumpkins tall we might be.  Each 'stache got measured using our pumpkins. We recorded our guess and actual measurement on our paper.  Mr. Greg took a picture of each 'stache and we will make it into a class book!
We also do sink or float with pumpkins!  This science experiment is super fun because the kids are always amazed at the results!  We predict if a pumpkin will sink or float and then we do our experiment and we record our results in our pumpkin research journal!
Pumpkins Art
 Of course do amazing art featuring pumpkins!  Because no learning experience is complete without art.  Art is a must-do in our classroom!
We finger-painted pumpkins!  We talked about how mixing colors makes new colors and we mixed red and yellow to make orange.  Cue the amazement!
I love the 50 cent shower curtains from Wal-Mart that I've had for 3 years.  We put these down when we paint and it makes clean up a snap.  It's perfect for our
no desks/no tables classroom!
The pumpkin outline you see here is from Creative Clips on TPT but you can use any printable pumpkin outline or even have the students draw their own!
We also made pasta pumpkins!  This is one of my favorites!  I dye the pasta wheels orange.  I give the 'staches a pumpkin outline and the 'staches glue the pasta onto the pumpkins!
For info on dying pasta, take a look at this blog post. CLICK HERE​
One of my favorite art projects to do is directed drawings.  They're easy and quick.  They're great for listening skills and following directions.  And the results are just awesome!  I also love torn paper projects because they're great for fine motor skills and the results are always so fun!
Pumpkins Foodie Fun Friday
 And of course, there was some food involved!  Our Foodie Fun Friday for pumpkin week was:  making pumpkin pies!
Read the book A Perfect Pumpkin Pie and make mini no-bake pumpkin pies!
Here's the recipe:
1 cup of Vanilla pudding (1 pudding cup)
3 spoonfuls of pumpkin pie filling (or however many the kids wanna scoop in!)
mini pie crusts (I got my graham cracker crusts at Wal-Mart)
Mix pudding and pumpkin pie filling.  Scoop into the crusts.
You can bake them or not.  We have a toaster oven so we baked ours at 375 for 10 minutes.
EAT!  One 'stache said:  "This is the best pumpkin pie I've ever had!"
And how about one more simple and fun math pumpkin idea?
I saw this on Pinterest and now I can't find it…so if it's your idea, please let me know so I can give you credit!
I put this together in 10 minutes today and spent $4.  Orange plates ($1 Wal-Mart,  White dot stickers $2, and clothes pins $1).
I put 1-20 stickers on the plates.  I chose white because of the contrast and it looks like….wait for it…pumpkin seeds!  BAM!  Each clothespin is numbered 1-20.  The clothespins are the…wait for it…PUMPKIN STEMS!!!!!!  I know right…how fun…how cheap….how simple…how much will the 'staches love this?!  (It's so awesome, that Butters, The CEO of The Kindergarten Smorgasboard came to the office and gave it a PAW of approval.  That means you're all required to make this!  AND GO!)!
And of course we have tons of pumpkin centers!
Our sensory bin is rice colored orange and scented with pumpkin pie spice.  The bats are bow tie pasta colored with black food coloring!
These are from our Smashing Pumpkins line of centers!  These are a fan favorite every single year!  A must-have!
Get your own Smashing Pumpkins using the links below. The students simply match the hammer to the correct pumpkin. When they find the match, they use the hammer and say SMASH!
Here are all the available Smashing Pumpkins Creations:
Pumpkins Freebies!
Check out these pumpkin resources!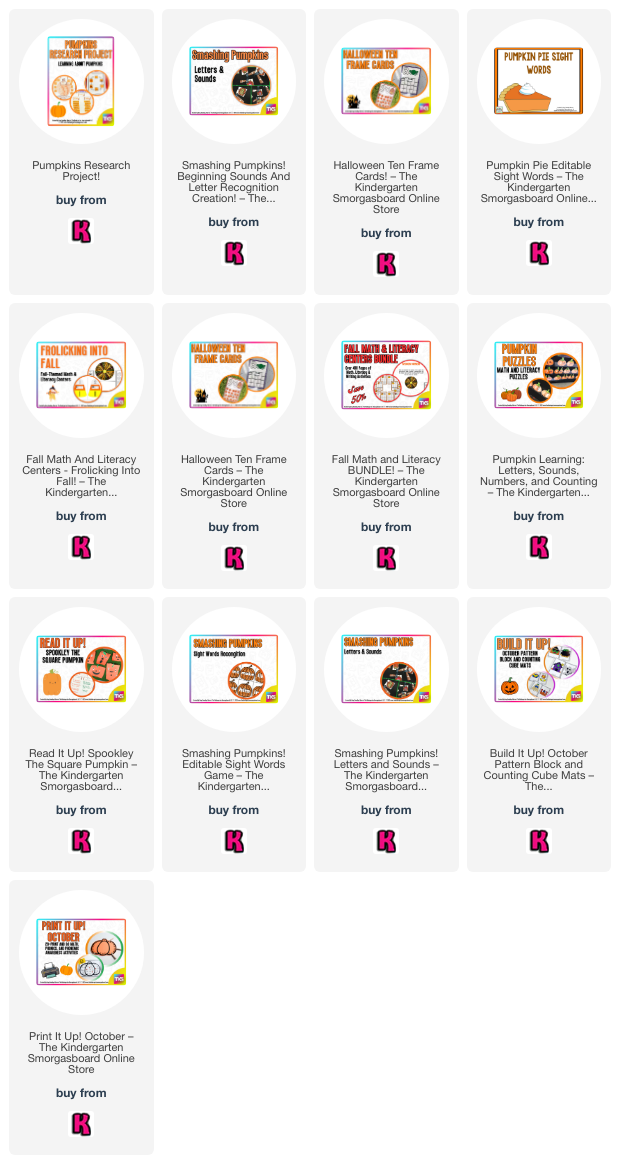 Join Our Newsletter
Subscribe to get our latest content by email.