St. Patrick's Day is always such a fun day in the classroom!   Leprechauns….rainbows….Shamrock shakes….I love celebrating the day with my kids!  And I'm excited to share tons of St. Patrick's Day ideas with you!
Reading Comprehension With An Old Lady Swallowed A Clover
Reading Comprehension With How To Catch A Leprechaun
 Leprechaun Visit
We do have a visit from a sneaky leprechaun. He always seems to show up while the 'staches are gone to specials and makes a mess in our room.  He even uses our bathroom and leaves us a green toilet!  True story.
One year I had a kindergartener who was nearly as tall as me (PEOPLE FOR REAL HE WAS THE TALLEST KINDERGARTNER EVER!) and when we returned from specials and the class was frantically following the little green footprints around trying to find the leprechaun, this poor child stood in the middle of the room and trembled and cried.  He was traumatized about the leprechaun getting him.  Poor thing couldn't even enjoy the fun.  Here's my soapbox for the day:  When you let 5-year-olds watch scary movies, you scar them and ruin fun holidays for them and ruin their childhood.  STOP IT!  That is all.
St. Patrick's Day Art Projects
I love anything we can make with handprints so this is a perfect 4 leaf clover activity is perfect for March or Spring.  If you want to make this art project for St. Patrick's Day, make a 3 leafh shamrock!
This four leaf clover is great for March and spring!  To make this a St. Patrick's Day project, do a 3 leaf shamrock!
True story.  Peppers make shamrocks!  Who knew?!  Just make sure to get the peppers with the 3 things on the bottom and not 4.  PS  The inside of the pepper with all of those seeds grosses me out for some reason!
For this art project, we painted newspaper green, then cut out a shamrock.  We used a plastic Solo cup to make the circles.  I printed the letters and had the kids cut them out and glue them on! 
Thanks Young School Art for the idea!
We love torn paper art projects so we made a four-leaf clover!
Another favorite art project is using cookie cutters!  This is such an easy art project.  We just squirt paint on paper plates and the kids dip the cookie cutters in paint and stamp it on their paper!  
In our class, we also love directed drawings so we did a directed drawing of a leprechaun!
This cute directed drawing is from Proud To Be Primary!
St. Patrick's Day Hat
Make this fun hat with your class! The template and directions are included in our St. Patrick's Day Creation. 
St. Patrick's Day Snacks 
 And yes we have snacks!  How about a Shamrock Shake?  Sprite and lime sherbet.  I bought Sprite Zero to make it more healthy!  2 scoops of sherbet and fill with Sprite!
Another recipe for the shamrock shake is simply vanilla ice cream, milk, green food coloring and mint Oreos!
And this super minty fun snack that THE MISTER makes for my class!   Seriously, is he amazing or what?!?!  We make a darn good team and I couldn't do what I do without him!!!  
Leprechaun Chow!
Ingredients:  Chex cereal (5 cups per batch), Mint M&Ms, Andes Mints baking chips (1 bag per batch)),  pretzels, and powdered sugar (2 cups per batch)
1.  Pour cereal and pretzels into a large bowl.
2.  Melt Andes chips.
3.  Pour melted chips over cereal and pretzels.  MIX!
4.  Place half of the mixture into a gallon-size zip-lock bag.  Add 1 cup powdered sugar.
5.  Shake the bag until everything is coated with sugar.
6.  Place on a wax paper-lined cookie sheet to cool.  (Repeat with other half of cereal/pretzel mix)
7.  When cool, add in Mint M&Ms.
8.  Place in zip-lox bag and add a label!
It's very very yummy and easy to do!  And makes the kitchen smell minty!
And now how about some St. Patty's Day freebies?
Labels for Leprechaun Chow!
Thanks to Zip-A-Dee-Doo-Dah, Whimsy Workshop and KG Fonts for the clip art!
St. Patrick's Day Sensory Bins
St. Patrick's Day Centers
Click the pictures below for more info —
And of course, you have to dress the part for St. Patrick's Day!
Click the image to get the costume on Amazon!
St. Patrick's Day Freebies!
There are 3 different roll and color games. One is for addition with two dice and coloring the numbers. One is rolling two dice and finding the dominos that add up to the same number as the dice and the last one is a picture roll and color!
Just click on the picture above to get your freebies!
St. Patrick's Day Resources And Creations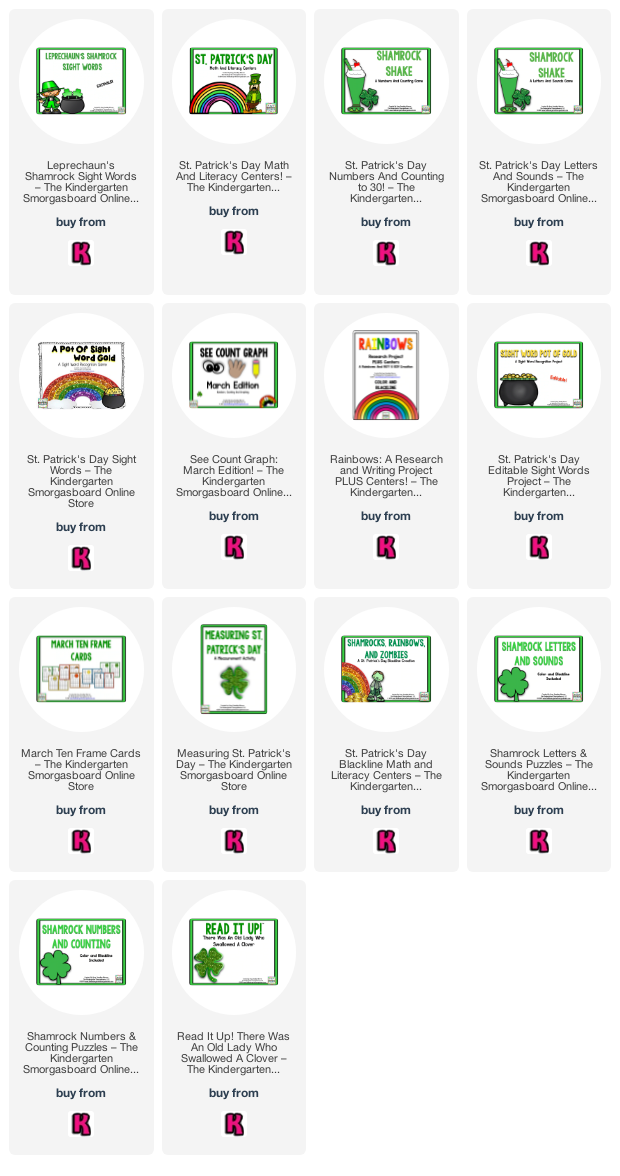 For more St. Patrick's Day ideas, check out these posts: