The science of reading tells us the importance of phonics and phonemic awareness when teaching reading and writing. We also know those are just two pieces of the puzzle. We also know how important it is to keep phonics and phonemic awareness activities fun, hands-on, and novel. And ya'll, we know how much we love some good DIY projects!
Dollar Tree Phonics Games
Dollar Tree is a great place for classroom materials, especially these shape cutouts. We love using these because they're cheap, they come in so many designs, and when laminated they can be used over and over again!
My class loves games so we used these ice cream cutouts and this giant ice cream up from Dollar Tree to make a phonics game!
We laminate the shapes and write lowercase letters using a Sharpie. Place these into the giant ice cream cup.
We pass the ice cream and students reach in and pull out a cone. They say the sound and the letter. Then the class writes the letter on their whiteboard or chalkboard and they yell out words that start with that sound.
You can also use this same game for any phonics skill or phonics pattern. And keep in mind, you don't need the giant ice cream cup. You can use a paper bag, box, bowl. etc and any kind of shape cutouts!
Here's a tip: write on the shapes with a Sharpie and you can reuse them by scribbling over the Sharpie with a dry-erase marker and it will erase!
Another idea for these shapes is word building. This is great for whole group and small groups.
Write letters on the shapes. Place the shapes in a pocket chart. You say a word. Have students segment the sounds in the word. One student spells the word in the pocket chart using the shapes. The rest of the class writes the word on their whiteboard. Everyone reads the word.
And here's the great thing about these games: they're cheap, easy to make and can be used all year with ANY SKILL! You can do CVC words, CVC-E words, vowel teams, blends, digraphs, etc. They can be used in whole group, small groups, and centers!
Here's another idea that I saw on Facebook and I wanted to know if it actually worked. So I made it and it works!
I use a plastic container from Dollar Tree. The trick is that you want the lid to not have lines. The inside can be divided or not, it really doesn't matter.
Use a Sharpie to write on the lid.
Inside the box, you'll want to put magnetic letters or letter tiles and CVC word pictures.
The CVC word objects we used are these magnets. Click the image to get them from AMAZON!
We also use our CVC Word Work Center resource because it has real photographs included and those worked great as well!
Amazon also has these magnetic object sets:
To use the game, students shake the box. Open the box. Place a picture in the "SAY IT" section. Say the word. Segment the sounds. Spell the sounds using magnetic letters. Write the word using a dry-erase marker.
For more science of reading aligned resources, check out these TKS creations: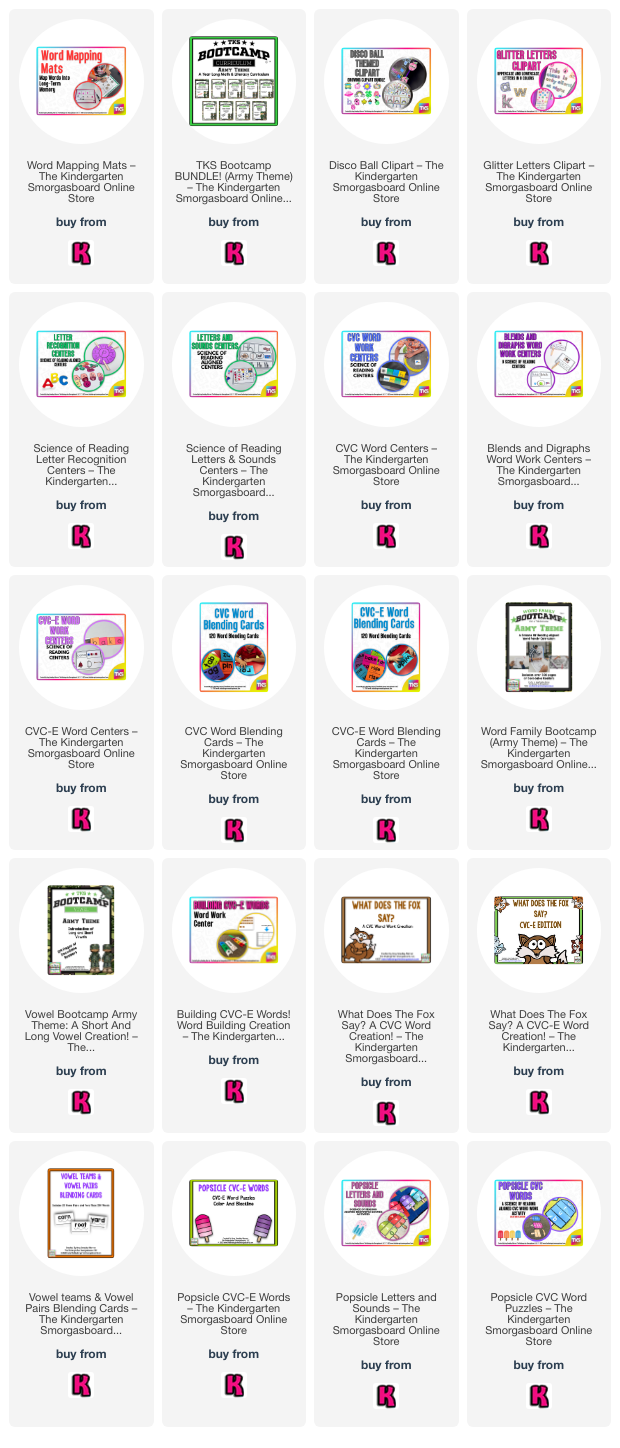 For more ideas, resources, and activities, check out these blog posts: