On this page, you will find all current and future FREEBIES! If you download any of our freebies, we would appreciate a comment letting us know what you think! So please, download and enjoy! Remember to share on social media and tag us while using the hashtag #happyclassrooms!!!
---














**Print only page 1 of each pdf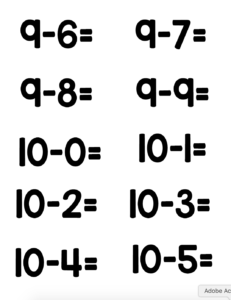 **Print only page 1 of each pdf







---
---
---
Cookies And Milk Letters Recording Sheet
---
---
Subtracting Dice
---
Subtracting Dominos
---
---
Loopy Words
One Two Zoo Poem
Roll To 100
Sparkle Peep Addition And Subtraction!
Adding Hearts
We Heart Sounds
Writing Paper Templates


Letter Recording Sheet

Superhero Calendar Cards!

Counting Ants!

Lighting Up Number Recognition!

Editable Mustache Book Bin Labels

5 Classroom Rules Posters

Recycling Poster

Ten Frame Tots!

Firework Calendar Numbers!

Wrasslin With Numbers! Calendar Number Freebie!

Treasure Hunter Calendar Cards!

Treasure Hunters Name Tags

Boot Scootin' Boogy Ten Frames!

Pretty In Pink Sight Words/Great Outdoors Sight Words!


HIGH YA! Ninja Addition Write The Room!

Cinco de Mayo Addition And Subtraction
Decomposing Dice!

Plant Parts and Needs Poster Craftivity

Parts of A Plant Emergent Reader

Meerkat Craftivity

Zoo Emergent Reader

Animal Count By 5 and 10

It's A Jungle QR Codes!

Take Away French Fries!

Vowel Hat!

Cloudy Jellybean Subtraction

Easter Bunny Emergent Reader

Butters Ten Frame!

Leprechaun, Leprechaun What Do You See?

Ordering By Size: St. Patrick's Day!

I Have Who Has Numbers 11-20 Cowboy!

SAT 10 Test Practice

Tall Giraffe Freebie!

Food Themed Ten Frames!

The Big Bad Wolf Poem!

The President Poem

CVC I Have Who Has Game!

Lego Addition Freebie!

I Have Who Has Valentine's Day

Mardi Gras Ten Frames!

Word Study Notebook Labels

Gangnam Style Sight Words!

Greater Than/Less Than Recording Sheet

Ten Frame Recording Sheet!

Snowman Craftivity

Princess Letter Cards Created by 4 Year Old Gracelynn!

Gangnam Style Twenty Frames!

Dinosaur Number Cards

Glitter Name Tags!

A Kindergarten Smorgasboard Hands-On Science Experiment! BOUNCY BALLS!

Sight Word Posters

Aliens Love Panta Claus

Bright Polka Dot Name Tags

Community Helper Word and Picture Cards!

Community Helper Roll and Color

Counting Fireflies!

SaveSave
SaveSave