We all know how much our students thrive on structure and routines.  And we know how much things can go cray-cray if that structure is messed up.   When I created our ABC BOOTCAMP curriculum I was excited about the engagement and fun we had learning letters and sounds.  After the success of ABC BOOTCAMP, I wanted to extend that to other skills.  That's where TKS Bootcamp's Vowel Bootcamp comes in.
Seeing the success we had with ABC BOOTCAMP, I worked to create TKS Bootcamp's vowel Bootcamp following the same structures and routines of ABC BOOTCAMP.  And after hearing from so many teachers (cuz ya'll are awesome-sauce!!!!) wanting more Bootcamp curriculum, I set off on my mission!
So, what's Vowel Bootcamp all about?  It's all about FUN and engaging learning!   It's about reading, writing, and building words with long and short vowels, especially CVC-E words!
Vowel Bootcamp focuses on 1 vowel a week and we follow this pacing:
Monday-circle chart
Tuesday/Wednesday-word building, blending, writing (word building uses the included word building cards)
Thursday-word writing independently or in small groups as needed using the included writing page
Friday-read/match independent assessment activity using the included activity
It starts with the famous circle charts!
Students brainstorm words for the CVC-E pattern.  I draw the picture (or lamely attempt to….at least the kids think I'm an awesome artist!).  We use our sounds to spell the word.  Then we read each word again.  The circle charts allow us to segment and blend the words as well as write the words and helps us build fluency with the CVC-E pattern.
So how effective is Vowel  Bootcamp?   Prior to starting Vowel Bootcamp, I used ESGI to assess my students on hearing short and long vowel sounds and reading CVC-e words.   The pre-assessment showed 40% of my students could hear the vowel sounds and read the words.   Following Vowel Bootcamp, our mastery went up to 75%!     Students will practice these skills in centers and during guided reading!  (All of my Vowel Bootcamp assessments are on ESGI!  Use the code SMORGIE to get your 60-day free trial and save $40 on your subscription!)
Check out this video of my class using Vowel Bootcamp!
Here is a video of Vowel Bootcamp being used in virtual kindergarten:
To practice reading CVC and CVC-e words, we use these simple PowerPoints too!  Click the image to get your free PowerPoint file!
You can see Vowel Bootcamp in all five themes (army, monster, safari, superhero, and no theme) in our TKS store!  Vowel Bootcamp also contains digital activities for Google and SeeSaw!
For more CVC-E resources, check out these creations!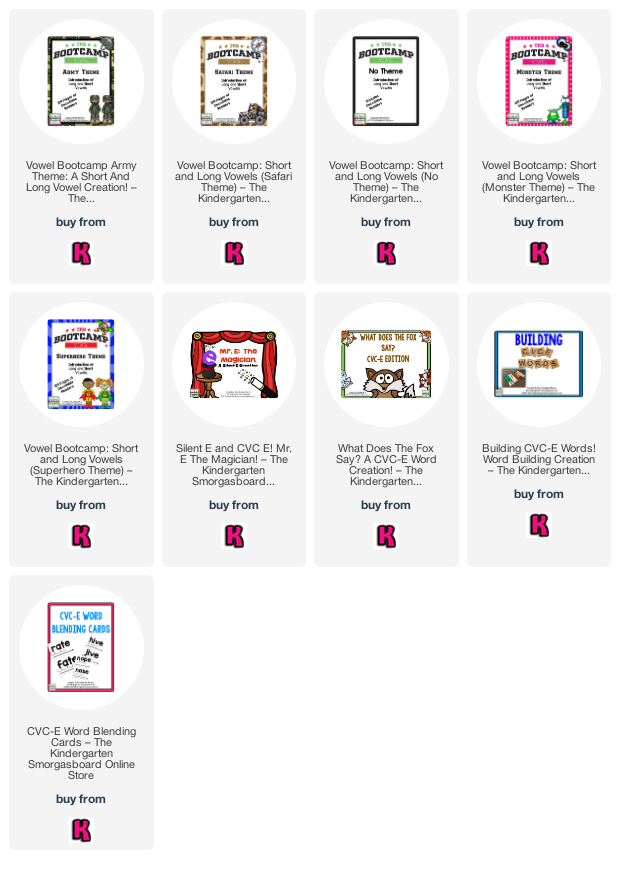 For more information, check out these posts:
Join Our Newsletter
Subscribe to get our latest content by email.