Today we want to show you some easy and fun December classroom activities!   We LOVE DIY games, centers and activities that are easy to prep, fun for the kids and can be differentiated and adapted as needed.
Most of the materials for these activities can be found at Wal-Mart, Dollar Tree and Amazon!
December Classroom Activities:  Sight Words
These December Classroom Activities make sight words fun and engaging.  Just add your own sight words!
Christmas Light (or Holiday Light) Sight Words
You'll need:  mini light ornaments (Was-Mart Christmas section) and a Sharpie!  (Don't worry!  The ornaments are shatterproof plastic!)
Simply use your Sharpie to write the words on the mini light ornaments.  Then we place the ornaments in a Santa Bucket (Dollar Tree for $1) and a pair of tongs (Was-Mart kitchen section).  The tongs add in fine motor skills!  Students simply choose a sight word, read the word and write the word!
Jingle Bell Sight Words
For this noisy sight words game, you'll need bells (Was-Mart Christmas section) and your Sharpie!
Use your Sharpie to write the sight words on the bells.  Place the bells in a Santa bucket.  Add tongs for fine motor practice.
Students choose a bell, read the word and write the word.
December Sight Words Match
We found these fun matching card games at Dollar Tree.  I used a permanent marker to write the words on the cards to make a matching game.  This can be a fun pocket chart center or a partner game!
Christmas Letter Recognition 
You can also use the mini ornaments to practice letter recognition and sounds!
December Classroom Activities:  Math
Ornament Numbers
We bought these plastic shatterproof ornaments at the Dollar Tree.
Use your Sharpie to write numbers to 20 on the ornaments.   Place in a Santa bucket with tongs.
Students choose an ornament.  They can use recording sheets to make the ten frame, color the number or color the ten frame.  You can find fun Santa recording sheets (and math and literacy centers) in our Santa creation!
Gingerbread And Santa Ten Frames
Who doesn't love Target mini-erasers?!  We love these for our ten frame cards and for making ten frames!   And we also love when we can find fun ice cube trays or silicone baking trays to make ten frames out of.  We found these silicone baking trays on Amazon.  Unfortunately they don't come in 10 so we have to cut them a bit to make ten frames!
CLICK HERE FOR THE CHRISTMAS TRAYS.
CLICK HERE FOR THE GINGERBREAD TRAYS.
Students choose a number card.  Place the erasers in the ten frames.  And then make the ten frame on the recording sheets.
You can find the number cards and recording sheets in our Santa creation and our Gingerbread Superheroes creation!
To see how we made these, check out our Facebook LIVE video!
For more holiday and Christmas ideas, check out these posts:
For more Christas resources, check out these creations: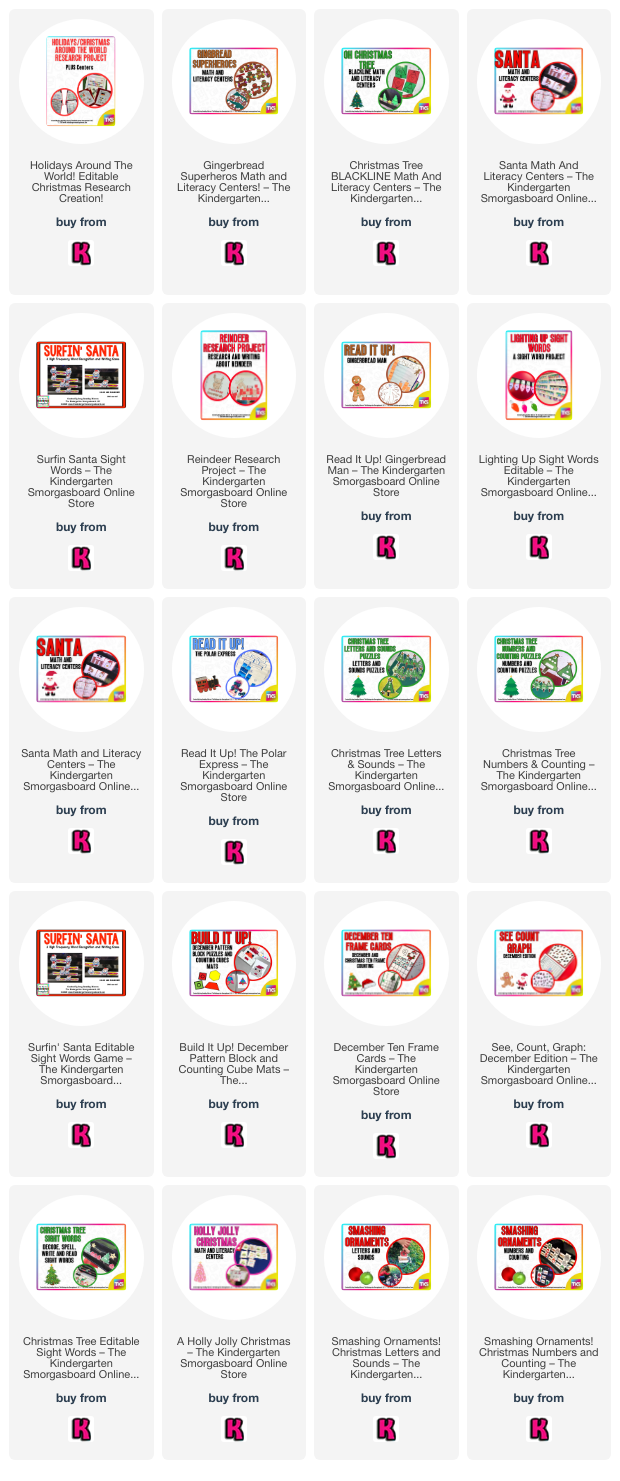 Join Our Newsletter
Subscribe to get our latest content by email.