It's time. Back to school is here. It's strange. Uncertain. Different. But it's here and that means Schedulin' Sunday is BACK! After 5 months, it's time to jump back into planning, prepping, and Schedulin' Sunday! And I'll just say: I'm excited to be back to a routine and a sense of normalcy but I'm overwhelmed with getting ready for virtual kindergarten. But we're plowing ahead and going to do it!
First Week Lesson Plans
As ALWAYS, our lesson plans are free to download. This year, we've modified the format to show the live teaching we're doing and the self-paced learning the kids will do. When we return to in-person learning, we will switch back to the regular lesson plan format. If you're interested in previous lesson plans, we have 7 years of our lesson plans in our Resource Center at the top of this page!
CLICK THE IMAGE TO DOWNLOAD THIS WEEK'S VIRTUAL LESSON PLANS!
A Brief Outline Of Our Plan
Here is a brief outline of the plan and schedule we're taking (this is district mandated but we're allowed to supplement and do what we need to support our kids…). As this unfolds, we will modify and adapt. AND WE WILL BE SHARING OUR JOURNEY WITH YOU AS WE ALWAYS DO. I'LL BE RECORDING LESSONS TO SHARE, I'LL SHARE WHAT WORKS AND WHAT DOESN'T. I'LL BE 100% REAL ABOUT IT BECAUSE I AM IN THE CLASSROOM GOING THROUGH HIS WITH YOU. I'M NOT SITTING ON THE SIDELINES TELLING YOU THINGS TO TRY. I'M DOING THE WORK. EXPERIENCING THE STRESS AND FEELING OVERWHELMED AND CONFUSED AND EXCITED AND SCARED.
2 hours of live teaching each day using Microsoft Teams as our streaming platform
Schoology is being used as our learning management platform (attendance, grades, assignments, etc)
Florida Virtual School is our self-paced curriculum that students complete on their own time/at their pace each week
We will use the 2 hour live teaching to do our normal teaching-morning meeting, research projects, bootcamps, etc
Sending home weekly packets so students can do writing/drawing, puzzles, etc that we would normally use in the classroom
The First Day-Virtual Kindergarten
For our first day, we're keeping it simple. We will start with a morning meeting. I will introduce myself and teach the kids to say my name. All while also teaching procedures and expectations for our Teams meetings. We will read our first morning message and sing our songs. (I'm front-loading the songs by sending the links to families so they can practice at home!
Our first read aloud of the year is The King Of Kindergarten! We will read and discuss the story, focusing on what the boy in the book does to get ready for school and what he does at school and comparing that to what we did! The kids will share ideas and thoughts and we will make a graphic organizer.
Our first social studies activity will be about responsibility in the classroom and we teach that using crayons. We use our School Supply Research Project to share ways to use crayons and ways not to use crayons.
After we discuss how to use crayons we color a soccer ball to practice coloring. I use a soccer ball because it has lots of sections to color.
Grab your FREE soccer ball coloring page by clicking here!
The First Week-Virtual Kindergarten
We will use several read alouds to build community and talk about feelings for the first week of school. We are reading Miss Bindergarten Gets Ready For Kindergarten and Our Class Is A Family.
As we read we will discuss what's happening, our feelings and emotions, and how we are like the characters in the books. It's all about text to self connections and building community in the classroom!
We will also learn about pencils and scissors using our School Supply Research Project!
Finally, let's be real: this week is going to be lots of learning and hiccups with tech issues and teaching the kids the expectations and procedures for our live lessons. But we will figure it out. To help with the live lessons, I made this resource! The rules card will go home to the kids so they have it and families can use it to establish rules. The microphone cards will be used by me to tell kids when to mute and unmute. The sort is an activity we will do as a whole group to discuss what we can and can't do during our Teams meetings.
Clipart from:
These are the resources we're using this week: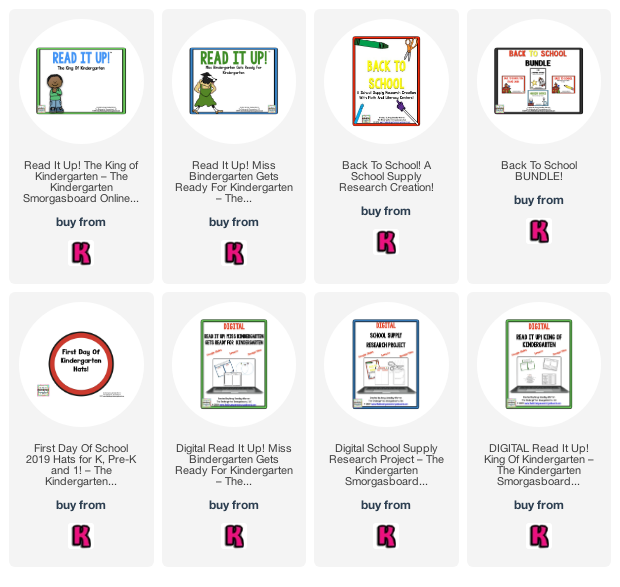 For more information, check out these posts:
Join Our Newsletter
Subscribe to get our latest content by email.