I'm back!  It's my 2nd blog post today!  This is the first time I've ever posted twice in a single day!  Woohoo!
I am excited to share some creations from  my friend Tiffani from Time 4 Kindergarten!  I love Tiffani and her humor and her creativity!  And she even let me guest blog for her once.  Can you believe people turn their blog over to the crazy dude?!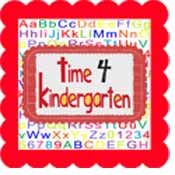 Tiffani shared her winter themed math and literacy centers with me!  They are both almost 100 pages each.  People, that's 200 pages of winter math and literacy centers!  Yeah!  Included are abc order, sight words, games, tally marks, counting, roll and cover and much much much more!  These are great for meeting Common Core standards!
I had some help getting these centers printed and laminated!  It's always nice to the CEO of The Kindergarten Smorgasboard helping out!
My monsters are ten frame fanatics!  They love anything that lets them make ten frames!
The monsters loved these new centers!  They had so much fun with them.  I loved how easy it was to print, laminate and cut!  BAM!  New centers!  They are perfect for the skills we're working on now:  ABC order, tally marks, counting to 20, and syllables!  
Be sure to visit Tiffani and check out her great products and ideas!  
And now…you have a chance to win both of these packs!!!  That's right!  1 lucky person (I mean, you're already lucky with 2 posts from me today!) will win both Tifanni's math and literacy centers!
Here's what you have to do:
1.  Follow
Time 4 Kindergarten
on her blog.  Leave a comment letting me know what name you follow under.
2.  1 entry for following Tiffani on
TPT
!  Leave the name you follow under.
3.  Pin math pack on Pinterest.  Leave the Pin link.
4.  Pin the literacy pack on Pinterest.  Leave the pin link.
The giveaway closes at 7:00 EASTERN time Sunday night (January 13)!  That's 6:00 p.m. central time.  The winner will be chosen by random number generator using the comments on the blog!
Join The Newsletter
Subscribe to get our latest content by email.