Celebrating holidays in the classroom is important because it meets standards and incorporates customs and traditions. However, we need to also be aware of the cultures and traditions of students. Here's how we handle holidays in the classroom:
The key is COMMUNICATE! Communicate with the families. I'm always surprised at how easily we can come up with a great plan to include everyone! And guess what…if we can't do Christmas in December, that's perfectly ok. We can do gingerbread, snow, and holidays around the world! But remember, COMMUNICATE COMMUNICATE COMMUNICATE!
Christmas Art Projects
Santa windsocs! Students choose their skin color. The paper is rolled into a cylinder. The hat is a triangle with a rectangle and a circle. Add eyes, a red nose, and a mustache. The beard is white strips of paper that are crinkled.
I love these elf legs! And they're so easy! Strips of paper, glitter, and elf shoes. I model how to draw the shoes and the kids do their own!
Stocking directed drawing! This was created by my friend and co-worker so I don't have directions.
Reindeer-directed drawing. Click here for the directions.
Christmas Math Ideas
Adding and subtracting ornaments! Cut out a Christmas tree from bulletin board paper. I found giant foam ornaments at Michaels but you can easily cut out ornaments from paper. You can add and remove ornaments to solve equations!
Paper plate counting! Find cute Christmas plates and add numbers using dot stickers. Use mini-erasers or other manipulatives to count and make ten frames on a recording sheet.
Make giant ten frames from 12×18 construction paper. Use bows for counting objects!
Grab your FREE number cards by clicking on the image!
Christmas Literacy
Of course read The Polar Express and have hot chocolate!
Grab some clear plastic ornaments and fill them with fake snow and some letters. Students can say the sound and color the picture!
Click the image for your freebie!
Christmas Science And STEM
Stacking peppermints! Students work in pairs or groups to see how many peppermints they can stack!
Slime! We make slime using baking soda, glue, and contact solution. Add food coloring and Christmas confetti!
Peppermint science! Place a peppermint into some water and watch it dissolve into a fun design!
Christmas Snack Idea
Click here for the free labels!
Student Gifts
For student gifts, we have a tradition of making personalized blankets and clipboards for the students using our Silhouette Cameo!
For December and Christmas resources, grab our resources: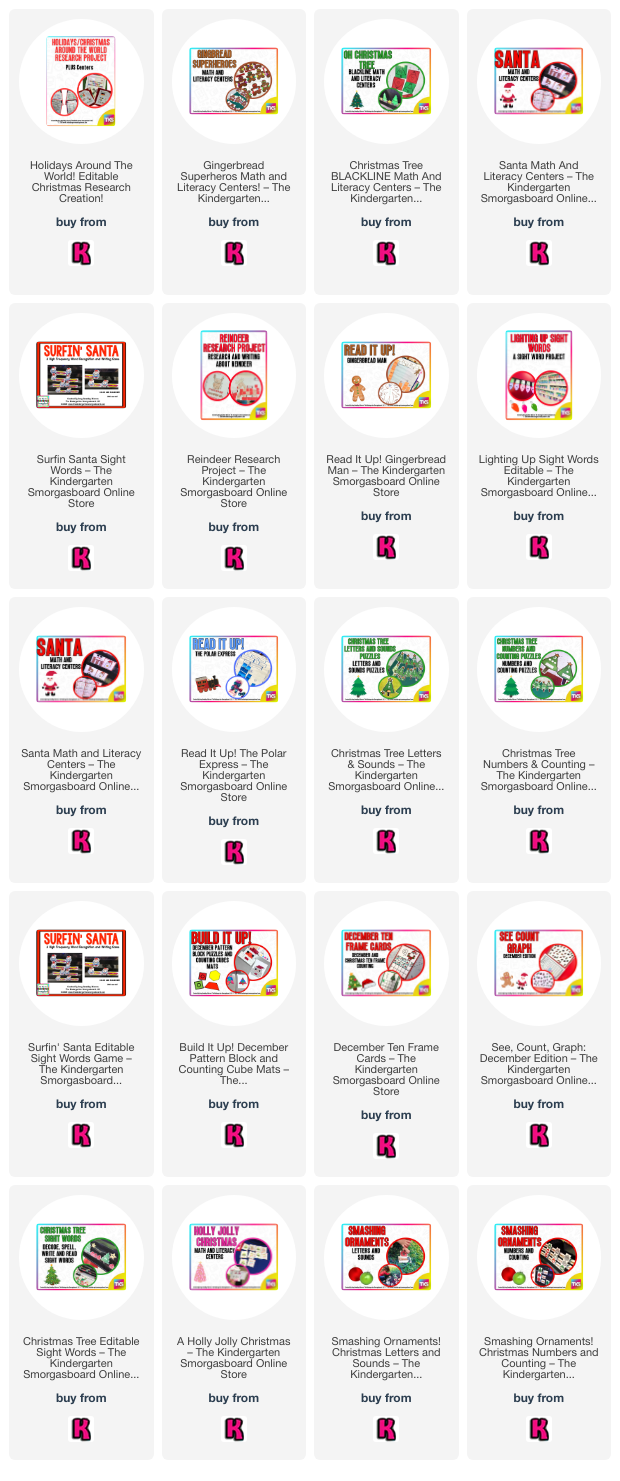 For more ideas and resources, check out these posts: