It's Monday!!  Lord. Monday's are hard but you know what is even harder?  When said Monday is after your amazing wedding and week long honeymoon in the beautiful Caribbean!  Seriously, yesterday I had ZERO desire to do anything school related.  I didn't even want to blog.  I know that your world was rocked to the core without my Schedulin' Sunday.  I mean, how in the world did you know what to do this week without all of my stellar teaching ideas.  (OK I know you don't really think that much of my ideas…but shhhh, let me live in my special Greg reality!)  Today was better.  After being with my kids (and making $100 already on TPT!)  I feel much better!!  I would almost rather be doing school work than on a tropical getaway…said Greg NEVER!  
It's Monday so that means Morning Meeting Monday!  
Here is a picture of today's morning message.  Since we just returned from fall break, I am starting to remove some of the scaffolding and bringing more interactivity into our morning message.  Our message always starts the exact same way, every day!  "Good morning Mr. Greg's Little Monsters!  Today is Monday, October 15, 2012."   This greeting provides daily review of months and days as well as number recognition.  People, work smarter not harder.  Just look at the standards you're covering in the first few minutes.  I know, right?!  You can thank me later!  As you can tell from the picture, I omitted the words Good Morning and Monday from the message.  The goal is to get my monsters to provide the missing words AND use their sounds to spell the words.  Today, I provided sounds that they missed or didn't hear.  For example, they were able to get the /g/ sound and the /d/ sound, but I provided the /o/ sounds.  The benefit of this is that they take more ownership in the message and we get a quick practice of letter/sound correspondence.  Eventually, the students will be writing the words as well as spelling them.  
As you can see, our message contains a few highlights of our day.  If you have ever read my Schedulin' Sunday posts, you know that I couldn't possibly include everything we do every day.  People, that would be a 24 page morning  message.  More like a morning novel!  I can't help it, I just have so many fabulous ideas!!!  Shhh…I'm back to my special Greg reality again.  Let me enjoy it, ok?!  
Monday is also the day when we write the letter that we're not focusing on for the week.  I like that it provides a very clear snapshot of where we are with our handwriting.  I was pleasantly impressed with our Cc's today…except the few that ended up upside down…I guess that's what you get on Mondays.  We all feel a little upside down!
And now for some fun random-ness…
I got a question today on Facebook about my Melonhead…have you seen it?  It's so cute!  The question was what was in my hand.  In one hand I am holding an iPad and the other hand is a marker.  I don't go anywhere without my markers and iPad (seriously, I need to do a blog about my love of the iPad!) so that's what I am holding!  Speaking of my love of markers and ink pens…look at my pink sparkly case that my mommy bought me for my markers and pens to travel in style.  Have you met me, everything has to travel in style…I am style (AND THE NEWLYWED!)
This is how we roll in Mr. Greg's class.  Style.  Nuff said people.  Don't be jealous…embrace me!  
Monday hat mania continues.  How did you all go two weeks without my Monday hat!  We're not focusing on the letter C so we made caterpillar hats.  And check out that classroom!  I love my learning space!  For real, it's wild, bright, chaotic and over the top.  Like me.  Style! 
And this came for me today!  Our principal gives us each $100 to spend on classroom supplies so I ordered construction paper.  So pretty.  Style.  I also ordered 10 chart tablets…but um, my pretty side kicked in and I ordered 10 of the half size tablets.  Not the big ones.  Ummm, really?!  Does anyone have any ideas for how to use these 10 baby chart tablets?!  Share.
And now…in case you missed it…here are some wedding pics.  We're all anxiously awaiting the 800 pictures our photographer took…don't like, you know you're dying to see all 800 of them.  
And speaking of wedding…I got the sweetest email yesterday evening.  Karyn, at A is For Apple B Is For Blog.  She was so kind to get me a wedding gift!  I was so touched.  The gift is super nice (4 clip art sets from Goodness and Fun!) and is so appreciated.  You know I have a serious clip art problem.  I told you , I even purchase it in the car.  Anyways, I was so touched that she did that for me.  The generosity of this blogging community has touched me in ways that you will not understand.  In my situation, you're so hesitant to share much because you never know the reaction people will have.  It's the sad and painful truth of being gay.  The blogging community has accepted me and supported me in such inspiring ways.  You are all a true inspiration to me and I love each of you.  Karyn, thank you for showing this dude the true kindness and love of people.  You are my hero!  
Go say hi to Karyn and love her for her amazing spirit!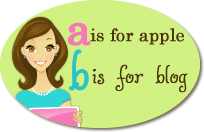 And look at what Ashley Huges at The School Supply Addict made for me!  Cute huh?!  Of course it is, it's me.  Go say hi to Ashley!
Join Our Newsletter
Subscribe to get our latest content by email.