Happy Tuesday!!!  Seriously, what have I done to the bottom of my feet?  They hurt so bad.  It hurts to even move my big toe.  OUCH!  Anyways, enough whining from me…
Guess what?  I should be sitting in a productive, uplifting and educational faculty meeting right now!  (Come on, how was that?  Believable???  I can almost see myself saying that with a straight face.  Almost!)  I decided to take the rest of the week off.  So I skipped said faculty meeting.  Why?  BECAUSE I CAN!  I AM THE GROOM!  And I am officially kicking off my own celebration of my wedding!!!!!!!!!!!!  Holy crap, I'm getting married!!!!!  
Speaking of being THE GROOM!  I bought myself a little pre-wedding present.  I done went and got myself Melonheadz-ed!  Nikki at Melonheadz is awesome!  Check out her blog and her store!  And tell her Greg sent ya!  What do ya think?  I love sweater vests…I love pink…I love my markers and my iPad!  It's me!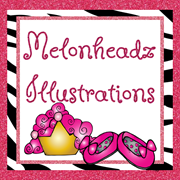 Funny story of the day:  We were on the playground enjoying a very cool afternoon when my friend who we call Whishle came to visit.  She visits frequently on the playground.  OK, she would rather sit with me and talk to me than play…some days I love it but let's be honest, we all need a break sometimes, right?  Today our conversations went like this:
Whishle:  "Seriously, you need to get your class under control.  They are just too wild and out of control."
Me:  "Really?  Then maybe you should be the teacher and give me some time off."
Whishle:  "Good God get them under control!"  
And off she went.  Does that say something about my classroom management?!?!  I mean really…I am now questioning my skills and managing behavior.  Thanks Whishle!
I wanted to share a cool new iPad app that I have been using with my little monsters!  The app is called   Letter School!  It is the best handwriting app I have found and trust me, I have tried several!  What I love about the app is that it is….wait for it…DIFFERENTIATED!  Each letter (and it has number formation too!!)  has three levels.  
The first level shows them how the letter is formed.  Here's the fun part:  there are a variety of different animations for the letter formation.  There is a train track with a train that drives over the letter after it's formed, grass that grows and the is mowed by a lawn mower, a track with a ball that rolls around and even one with pretty, sparkly, fla…oOOO sparkly…sorry, ADD moment…flashy lights!  
The second level the students must form the letter by following the guide.  The guide is the same animation from the first level.  If they mess up or try to form the letter the wrong way, the app makes them start over!  Self correcting!!!  I know, right?!?!  Don't go rushing off and get the app yet, you still have more to read here. 
The final level allows the student to form the letter on their own.  The letter appears for a second or two and then fades away leaving only the starting point.  The student must form the letter.  However, if they stray off course, guess what?????  The app gives them a hint in the form of an arrow showing how to fix their oops!  And then guess what???  If they stray off course again the app gives them more help in the form of more arrows!  And if they go off kilter a third time (not that any kindergarten would ever do such a thing!) the app gives them guidelines to form the letter!  
People, it's genius!  It also says the letter name and gives a word that begins with the letter.  My friends have shown some pretty noticeable improvement in their handwriting skills after using this app for about a month!  
And let's be honest, how do you really know an app is good??  You hear """"oooh" and "aaah" as they're using it.  My favorite is my friend today clapping his hands and cheering himself on as he worked on his letters!  "You can do it, Matthew" he kept saying!!!
Here are some pictures of my friend using the app!  (Today was hat day!!!)
This week we are celebrating Read For The Record with our theme "Gettin Buggy With Books!" and I whipped up this little writing stationary to use for our door decorating   I actually had someone request it on my blog last night, so I am offering it up as a freebie! It looks really awesome on bright green, yellow and orange paper!!
Today was hat day!  Hence the rockin' hat!  And no I was not intending to be a bumble bee.  Thanks. Appreciate it.
Pants:  H&M  (HOW FREAKING HOT ARE MY PANTS!?!?!)
Shirt:  Old Navy
Shoes:  Nordstrom
Hat:  Gap