HAPPY NEW YEAR!  Welcome back to Schedulin Sunday and the start of a new year!  Who's ready to tackle 2015 and show it who's boss??!!!  I know I am!   I am so ready for a new year.  The hope…the promise…the goals…the resolutions that go down in a blaze of glory…oh yeah, bring it 2015.
So, who's ready for the first Schedulin Sunday of 2015?!  Who's super excited to get back to school?!  I am super excited to see my 'staches!  I sure have missed those little geniuses and all of their hilarity and quirkiness.  But I am sad to set an alarm.  Seriously…alarms should be declared illegal.  They really are mean little trolls.  Ok..Admit it…who else gets a little upset when you hear an alarm on tv or something?!  You know what I mean…that sound that makes you cringe…see…alarms are evil.  And must be destroyed.
Alright…enough ranting about alarms…here's what you really want…Schedulin Sunday!
As always, you can download me free lesson plans by clicking on the picture!
And to start off the new year, I want to answer the question that I get asked the most!  Where can we get your lesson plan template?!  My template was custom designed for me by friend Melissa at A Teacher's Plan!  But you can get your own copy by visiting her site.  The template is called…THE GREG!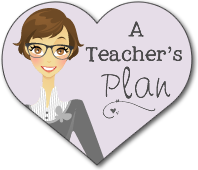 This week's stories are all about a new year, goals and making changes!
We discuss a resolution and that it means a goal or something we want to change or do better.  Then we will brainstorm resolutions using our tree map.
We will use our tree map to write our new year's resolutions.  
We will read Big Plans (which we read at the beginning of the year!) and discuss our big plans for the rest of the year.  We will also review the big plans we made at beginning of the year and see how we're doing on achieving those plans.
We will read David Goes To School and make a class promise chart.  The 'staches share all the things they promise to do and I write them down.  We post this on our door so we see it every single day to remind us of our promises.
We also spend the week working on our friendship and building community.  Since we've been apart for a while, it's a great time to remind ourselves of why we love our mustache friends.  We do a fun and powerful adjective lesson.  We discuss that adjectives are describing words.  We discuss how we want to make our friends feel special and loved so we're going to use kind adjectives to describe the things we love about our friends.
Each 'stache takes a turn in front of our Promothean board.  Their friends share KIND adjectives and Mr. Greg records the adjectives.  I snap a picture and everyone gets their picture to keep.  And we post the pictures as a reminder of why our friends are GLITTERIFICLY AWESOME!
We will be working on digraphs this week.  The H Family makes an appearace in our classroom.  We will make a circle map for each digraph (sh, th, ch, wh).  Friday we will do a sort to assess our progress with the H family.
Of course, you can't make a digraph circle without fun glittery letters!  So, here's a glitterific freebie for ya!
Click this picture to download pieces for you H family anchor charts!
You know it's true!  GLITTER makes everything better!!!
And here's a free digraph sort for you!  Just click the picture!
We also do some fun New Year's art projects!
We make a self portrait showing us celebrating a new year!
This year, instead of a template, I am going to let the 'staches create their own faces and hats!  Then we add a party blower/noisemaker and display these with our new year's resolution writing!
We also get to design our party hat!
I give each 'stache a party hat template and tons of collage materials and let them create!  
In math, we're going to practice counting down.  It is our new year's celebration after all.  
We do a whole group activity where we count down from 10, 15 and 20.
And then we get to practice on our won.  The independent practice is differentiated so everyone can be successful!
This week we're also reviewing subtraction before we dive into decomposing numbers and making 10!
And finally, since we are BOUNCING into a new year, our Mad Science will be making our own bouncy balls.  EPIC!  Who doesn't love a bouncy ball.  And making your own?!?!?!  It's just too much, people.  Too much!
Click the picture to get your free directions!
And Foodie Fun Friday can't be left out of the new year fun!  How about a Times Square ball drop snack?!  With cupcakes and doughnut holes.  CUPCAKES AND DOUGHNUT HOLES!!!
And that's our 2015 kick off week celebration!
PS  There's definitely a silly hat to be made…but it's a surprise.  All will be revealed on Tuesday!
Here is your free poem and emergent reader for the week:
Just click the pictures for your freebies!
And if you still have some friends who need to build their letter recognition, head over to my Facebook page and get your FREE disco ball letter recognition activity!  (This is on my FB fan page!  click the picture to go to my page and like my page if you don't already!  Then click on the FREEBIES image on the left side and you can download this freebie!)
Our resources and activities come from these creations:
Also, if you're looking for math center/math tub activities for the whole year, check out my See Count Graph Bundle!  It's 11 creations and over 400 pages.  Normally it's $55 if you purchased separately.  You can get it for 50% off!!!!!!