This week we continue virtual learning. We will remain virtual through December 17 which is our last day before our Christmas break. We will spend the next 3 weeks in 100% distance learning and we're going to make it as fun and easy as possible! We might be virtual but that doesn't stop the fun! This week we are reviewing sight words with our dry erase wheel, comparing and contrasting gingerbread stories, blending and writing CVC Words using Word Family Bootcamp, and subtracting to 10 with gingerbread men!
As ALWAYS, our lesson plans are free to download. This year, we've modified the format to show the live teaching we're doing and the self-paced learning the kids will do. When we return to in-person learning, we will switch back to the regular lesson plan format. If you're interested in previous lesson plans, we have 8 years of our lesson plans in our Resource Center at the top of this page!
CLICK THE IMAGE TO DOWNLOAD THIS WEEK'S VIRTUAL LESSON PLANS!
We are continuing WORD FAMILY BOOTCAMP! We've spent the last 5 weeks working on word families and CVC words. When doing Word Family Bootcamp, we work on blending, segmenting, and writing words. We also work on onset and rime. We work on adding and deleting phonemes to make new words. Our focus for the next few weeks will be using our Word Family Bootcamp to build and read CVC words and write CVC WORDS!
NOTE: WORD FAMILY BOOTCAMP NOW CONTAINS DIGITAL ACTIVITIES. IF YOU ALREADY OWN THESE CREATIONS, SIMPLY REDOWNLOAD THE FILES TO GET THE DIGITAL UPDATES.
We are also using our CVC Blending Cards to work on blending CVC words. This tool has been invaluable during virtual learning. They work great in whole groups and small groups during distance learning. They're also perfect for in-person learning.
This week we're reading different versions of gingerbread stories to compare and contrast the different versions using our Read It Up creation!
Instead of creating individual story maps for each story, we create one large story map. At the end of the week, we circle the things that are the same throughout the stories!
After creating our story map, the students draw their own story map!
After reading the different versions, the students write which one is their favorite and why it's their favorite!
We also do a fun STEM project to see if the Gingebread Man floats or sinks and the kids build him a boat to see if he can safely cross the water.
Sight Word Review
This week we're reviewing our sight words. We're using our dry erase spinner wheel as our review game. I spin the wheel. The students read the word, write the word and spell the word.
The wheel is available from Amazon! CLICK HERE TO SNAG YOURS!
Math: Subtracting To 10
This week we are continuing subtraction to 10. We introduced subtraction (virtually!) during our first 9 weeks of school. This week we will introduce the equation and we will use manipulatives to subtract. Our manipulatives will be gingerbread men cookies. And by cookies I mean cutouts. And a cookie sheet. What I've learned is that if you can make real-life connections with subtraction the students grasp it better!
We will show the equation. The students tell me how many cookies we need. I put the cookies on the cookie sheet. The students tell me how many to take away. They solve the equation on their whiteboard and show me the answer. Ya'll. Easy. Effective. And fun. After we do it with the cutouts, we will use a digital version. We did this last week with ornaments on a Christmas tree and the kids loved it. (PS If you want this digital activity and many others, sign up for our ELEVATE VIRTUAL conference! Every attendee is getting this EXCLUSIVE resource and many others as part of the conference experience!)
FREE POEM AND EMERGENT READER!
These are the resources we're using this week: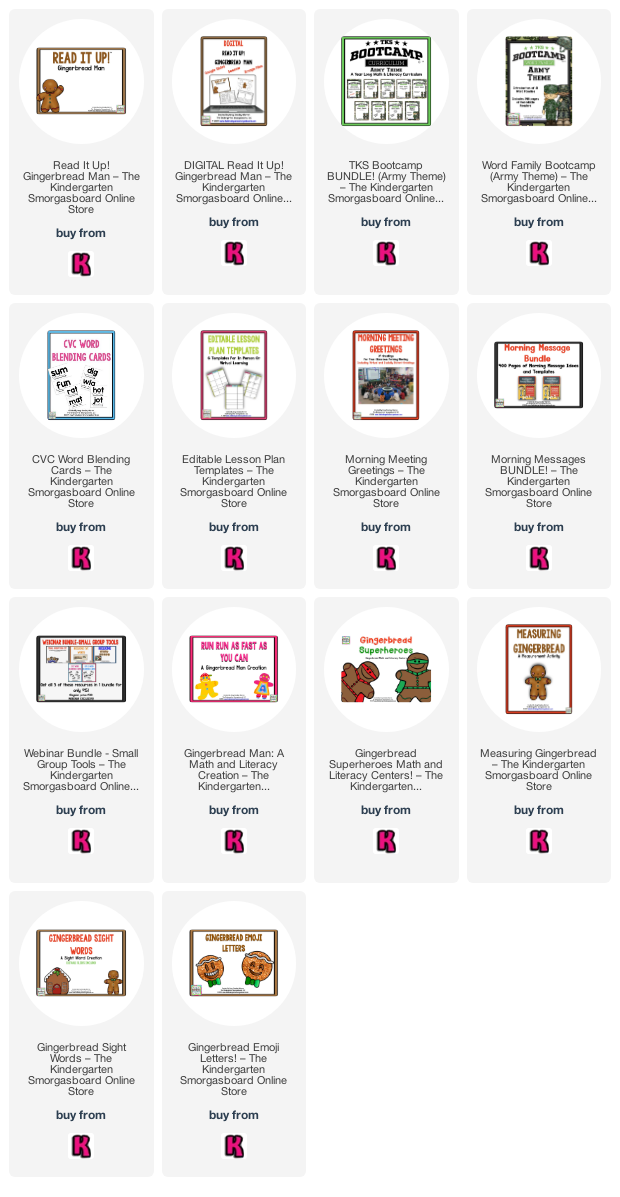 4 sessions packed full of brand new content and information from my classroom. I'll be sharing real, practical, developmentally appropriate activities, lessons, strategies, and resources I'll share the ups and downs of virtual learning, transitioning back and forth from virtual to in-person, and I will be sharing how we managed centers during in-person learning!! You'll receive a ready to use resource for each session plus exclusive resources only available to attendees! REGISTER NOW!
For more information, check out these posts: