Schema Map
We kick off our research units with a schema map.
We start with our schema or prior knowledge and record the information on Post-It Notes. I use Post-Its because they're amazing and colorful…but more importantly, they can be moved around as we learn more and adjust our learning!
As we progress through our learning we add new learning and address misconceptions!
Ocean Animals
As with all of our research projects, students create a research journal filled with their learning!
For each animal, we use a read-aloud and video for our research. Then we create a graphic organizer which the students use to write about the animal. The students label the parts of each animal and create a fun art project for each animal! The labeling allows for the learning of vocabulary but also allows us to talk about animal adaptations and how those adaptations allow the animals to survive in their habitat.
Ocean Animals Culminating Task
Below you can see additional examples of our graphic organizers, labeling, and writing.


Ocean Animals Compare And Contrast
We also did an interactive Venn diagram to compare and contrast sharks and dolphins! Ya'll just need hula hoops from Dollar Tree!
Ocean Animals Measurement And Ten Frame Cards
Ocean Art Projects
The jellyfish was made by painting a paper bowl and adding streamers for the tentacles!
The whale was made with bubbles! Put some liquid soap and liquid watercolor in a cup. Students blow in the mixture with a straw. The bubbles come up out of the cup and onto the paper! Then have students cut out a whale!
Ocean Snacks
Sharks (blue jello and whipped cream!)!
Ocean Water! (Sprite, sugar, coconut extract, and blue food coloring!)
Submarine Snack! Twinkies and fruit loops!
Ocean Science
Ocean slime!
We also made a version of ocean slime and added some fun ocean animals to the slime!
Ocean Animals Read Alouds
Click the image to see all of our books on Amazon!
Below are the links to the videos we watched:
Ocean Room Transformation
Each year we do ONE big room flip or room transformation. This year we did an ocean transformation.
For more details on our ocean transformation, check out this post!
Ocean Costume
CLICK HERE TO SEE THE COSTUME ON AMAZON!
Shell Counting Puzzles
Ocean Resources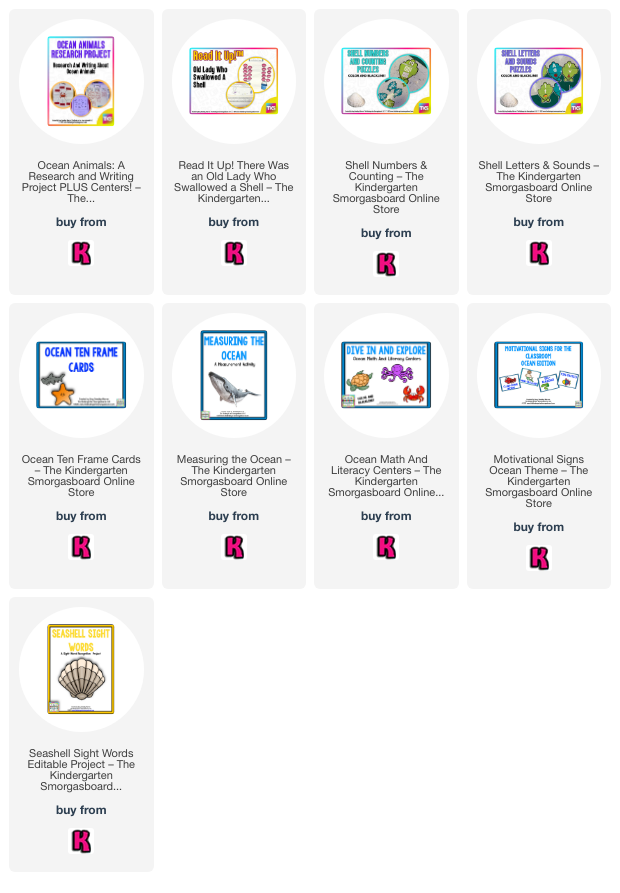 For more information, check out these blog posts:
Join Our Newsletter
Subscribe to get our latest content by email.