The month of November is all about being thankful and we spend the month working on our Thanksgiving Research Project!   This research project incorporates reading, research, writing, vocabulary and higher-order thinking skills.  We also do a lot of art projects, cooking, plus math & literacy centers as part of our Thanksgiving research project!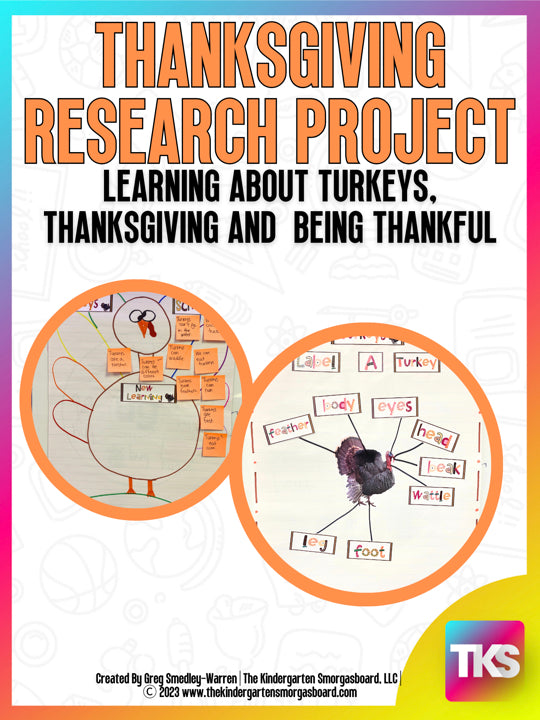 Each research project kicks off with a schema map.  This is where we share what we already know about our new topic.  As we complete our research project, we add new learning and address any misconceptions.
As we work our way through our research and writing, all of our learning is recorded in our research journals!
Our research is conducted with read alouds and videos!  And all of our learning is recorded on graphic organizers   The students then use these charts to do their writing!
 To bring vocabulary into our research projects, we work on labeling!   We do whole group labeling and learn the words and definitions and then the students complete their own labeling in their research journals!
We Are Thankful
Our major focus during this time is being thankful.  We discuss the things we are thankful for and write about being thankful!
As part of our lessons and discussions on being thankful, we also discuss needs and wants!
Thanksgiving Art Projects
I am a firm believer in the necessity and value of art in our classrooms.  As part of our research projects, we include art projects.  During these art projects, we have great conversations about what we are learning.  This allows us to work on our speaking skills, our vocabulary, and share our knowledge!  And we're creating amazing art!
The rainbow turkeys are from The First Grade Parade!  The abstract turkeys were created by giving the kids strips of paper and letting them make turkeys!
These hanging turkeys are my all-time favorite!  They're easy and they're messy and they look great hanging from the ceiling!  Yahoo.com even listed them as their NUMBER ONE turkey fail!  TRUE STORY!
One of our favorite turkey projects is our sight word turkey!   We assess the kids on their sight words and they get a feather for every word they know!  Then they use their feathers to make a turkey!   This project also allows us to have some great chats about sight words and what we can do to learn more words!  And we even talk about how we're thankful for the words we can read!
And seriously, everyone needs turkey leg hats!  Paper bags, newspaper, and an epic Thanksgiving hat!
Thanksgiving Costumes
And yes, there are costumes!
The suit is from OppoSuits!
Thanksgiving Research Project:  Math and Literacy Centers
Our research project includes hands-on, engaging and differentiated centers for math and literacy!  Click on each image to get the creation containing that center!
Thanksgiving Research Project:  Food
Of course, we have food as part of our Thanksgiving learning!
Ranch and peppers!
And who doesn't want to eat Turkey Droppings and Turkey Claws? (Click the image for your free labels!)
We end our Thanksgiving Research Project with a celebration of Stone Soup!  First, we read different versions of the story and each child brings in a can of vegetables.  We talk about how we can do beautiful work if we all work together.  Everyone adds their veggies to the soup and I add the stone.  When we sit down to eat, the stone soup picks a very special and deserving student to get the stone!  We even make our own butter!
Thanksgiving Freebies!
Click the images to get these Thanksgiving freebies!
Thanksgiving Read Alouds
CLICK HERE FOR THANKSGIVING READ ALOUDS
CLICK HERE FOR STONE SOUP BOOKS
Thanksgiving Creations

For more information and ideas, visit these posts: