Happy Schedulin Sunday! We remain in the virtual setting so here's what is happening in virtual kindergarten this week: we're learning about tally marks, arctic animals, and vowels using our TKS Vowel Bootcamp!
Lessn Plans: Tally Marks And Vowels
As always, you can download our weekly lesson plans here!
You can grab our editable lesson plan templates here:
Research Project: Arctic Animals
January is the perfect time to learn about arctic animals! The weather is cold (for most of ya'll!) and some of ya'll even have snow (not us in the south..). We are using our arctic animals research project to research and write about different arctic animals. This week we are learning about: polar bears, narwhals, moose, snowy owls and walruses.
As with all of our research projects, the students have a research journal where they do all of their work and writing. For each animal, we make a tree chart, label the parts of the animal and do an art project.
This week's read alouds:
This week we're kicking off our next TKS BOOTCAMP with Vowel Bootcamp! This is when we work with long vowels and the CVC-E pattern!
We spend a week on each vowel and work on segmenting, blending and writing CVC-E words!
We start with a circle chart just like we do in every TKS BOOTCAMP!
Then we work on word building and blending:
For the writing activities, we will use our whiteboards since we are virtual!
Math: Tally Marks
This week in math, we are learning about tally marks! We will be using our brand new Math It Up! Tally Marks creation!
To introduce tally marks, we like to supersize them with sentence strips! We use these to count tally marks, make tally marks, and focus on the slash! We will work on counting and making tally marks each day using lots of modeling and hands-on activities!
We also work on writing/drawing tally marks. Since were virtual, we will use our whtieboards for this activity!
This week we are using these TKS Creations: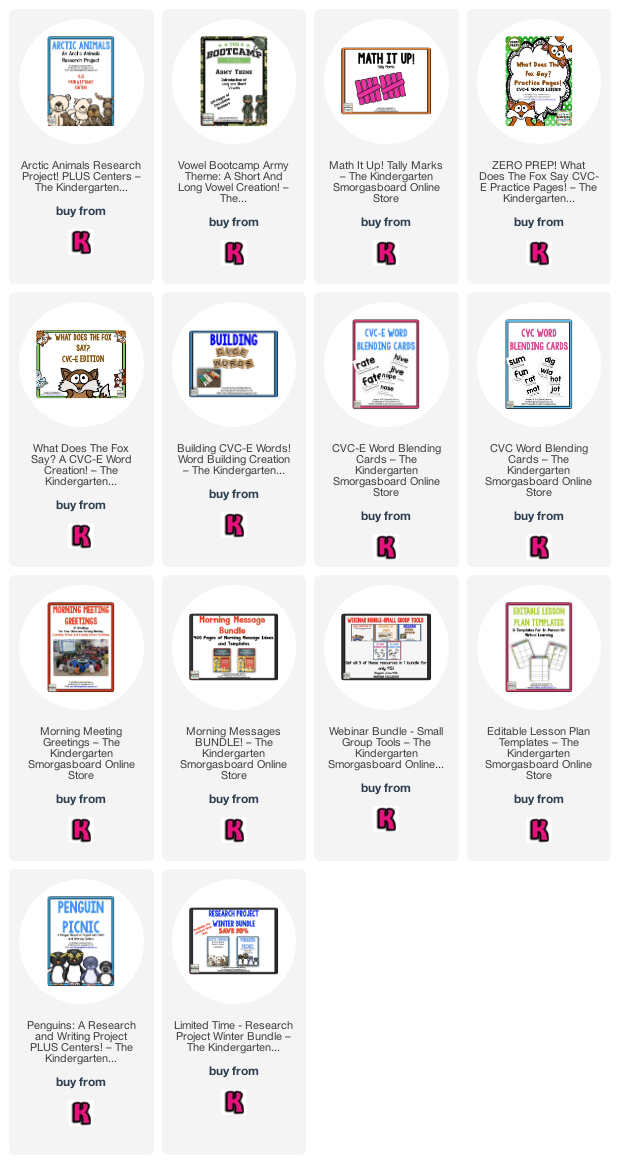 FREEBIES!
For additional information, check out these posts: