Who doesn't love going to the beach? And if you're like us and live in a landlocked state, you must bring the beach to your classroom! As part of our Backwards Bootcamp we do BEACH DAY for letter B or A for ALOHA so we want to share some beach activities from our classroom
Beach Transformation
The first thing we do is set the scene with a beach transformation. Ya'll, this is SIMPLE. I bought a blue tarp and brown painter's cloth from Walmart for about $5. From Five Below I bought a beach umbrella, beach chair, and some shovels and buckets for about $20. Add a beach ball and pool noodle and create a fun beach scene! My students read at the beach during the last week of school!
Here's another way you can set the stage! Inflatable palm tree, grass skirt, beachballs and a picture on your smartboard. Add in some beach music and ocean sounds and it's a simple way to turn the classroom into a beach getaway! (The palm trees get used for our Chicka Chicka Boom Boom week and our luau transformation!)
Beach Activities: Beach Counting
One of our favorite math activities is counting with seasonal or thematic paper plates. We found these beach plates at Dollar Tree. We wrote numbers up to 20 on the plates. Students use real sea shells to count and make the ten frames! (The ten-frame recording sheet is on our FREEBIES page!)
Beach Activities: The Old Lady Who Swallowed A Shell
The perfect book for your beach day or beach theme is The Old Lady Who Swallowed A Shell. We use our Read It Up! creation to work on literacy skills, grammar, graphing and writing after reading the story!
Beach Day Sight Words
As the end of the year approaches, we focus on sight words so we can end the year strong! Some of our favorite, engaging beach activities mean practicing sight words!
We use our Sunny Sight Words and Sea Shell Sight Word projects to assess and practice our sight words! These projects are fun and really keep the kids engaged and focused during the chaotic days of the end of the school year!
Another fun sight word game is our Sight Words At The Beach! Students can read, match, build and write sight words! We use our ESGI data to assess students and focus our beach sight words on our most missed words!
Grab your Sight Words At The Beach here:
Beach Activities: Beach Balls
Another fun and easy and CHEAP way to bring the beach into your classroom is with beach balls! You can grab them for ONE DOLLAR at Wal-Mart and Dollar Tree. Use a Sharpie and you can write on them to practice any skill. We use them for sight words, phonics, addition, subtraction, letters, sounds, and numbers up to 100!
For more ideas on using beach balls in the classroom, check out this post:
Beach Snacks
Rice Krispy treat, blue icing, gummy Lifesaver, Teddy Graham and a paper umbrella!
Vanilla pudding, crushed-up graham crackers, Whoppers, and paper umbrella
Beach Resources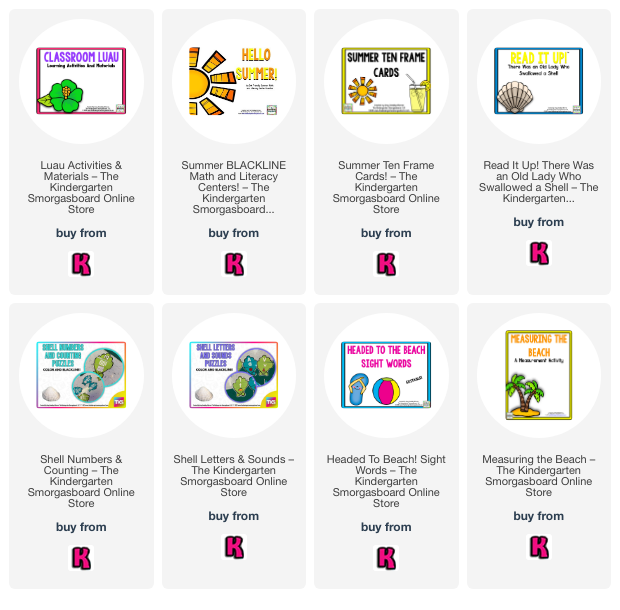 Beach Activities: Beach Books
Click the image to see the books on Amazon!
For more ideas, resources, and activities, check out these posts: