How do you teach sight words?  Can you still teach sight words? What are your favorite ways to teach sight words?   These are questions I get asked a lot and questions I see in Facebook groups and on social media every day.  So, here's my answer to teaching sight words:  SIGHT WORD 60!   And yes, sight words are allowed and yes, they can be taught using the science of reading-aligned strategies.   The science of reading does not say we can't teach sight words.  It simply means we approach sight words with more strategies and tools.
 Day 4 of our
 sight word
60 routine uses the science of reading-aligned strategies and has students using the words in context with sentences and phrases and using segmenting, blending, and spelling to practice the words.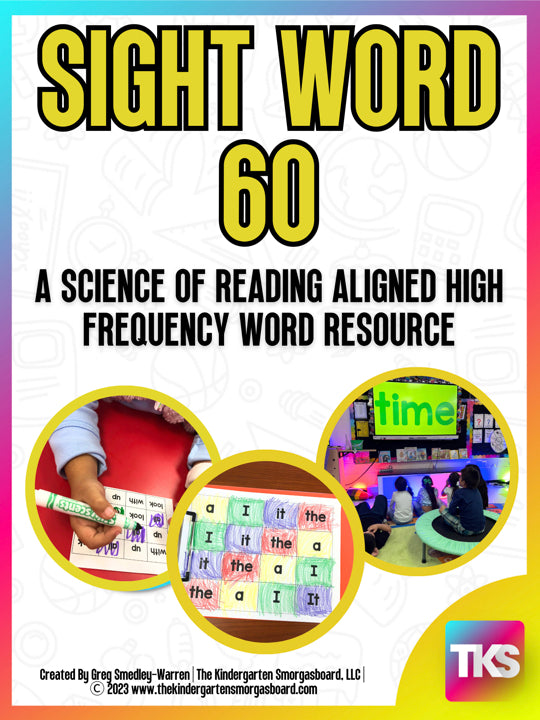 Day 4 is sight word phrases.
The goal of day 4 is to build fluency and practice the words in context using phrases and sentences.  There are 12 phrases on a PowerPoint template.  The phrases are all sight words, including the words for the week and previously learned words.  The phrases appear on the screen, and we read them.  We usually read them two to three times to build fluency.  Of course, we are still building automaticity, so we might read some phrases automatically.  GREAT!  However, there will be words that we need to decode so we practice decoding those words.  Again, both are important, and both approaches are working together!
Day 4 is sight word grids.
The sight word grids are 4 x4 grids.  Each word is included four times in random order.  There are four grids to a page and a large whole-sheet grid.  I use the small grids for our coloring, and the large grids are great for use on the smartboard or for graphing activities!
Here's how we do our sight word grids:
These can be done during whole group or small group time.  Doing them in small groups allows for more targeted instruction and more differentiation.  Doing them in whole group can be more efficient.  When we do them whole group,  it takes 5-6 minutes.
Each child gets a grid.  We quickly read through all of the words.  This is when we're using the automaticity we've been building toward all week.  And we segment the words and decode the words.  This is yet another example of using multiple approaches to sight words.  Giving our kids more tools means more success.
I say the word.  Students say the sounds in the word or segment the word.
I say " Find…." (and tell them a word to find).
Students find the word and point to the word.  I monitor to see that they find the correct word.  This is also a time when students support each other and help one another find the word.  This is another strategy in action:  students teaching each other!
 Students decode the word using their sounds.
 They spell the word and tap their head.
And read the word again.
Then I say, "Color the word …. red."
They find all of that particular word red.  (There should be four red squares.)  The colors are just random and have no rhyme or reason.  Unless the word is a color word, then we use that color for the color word.  So we would color the word "red" using red.
We repeat the process for each of the four words using four different colors.
These colorful grids go home so we can practice the words at home!
An editable sight word grid template is included in our Sight Word 60 creation (it's an all-inclusive resource!)
Our Sight Word 60 Creation has all the detailed instructions for each day compiled in one place for you, plus templates, word cards, a parent letter, games/activities, and more! It's available on TPT & in the TKS Store.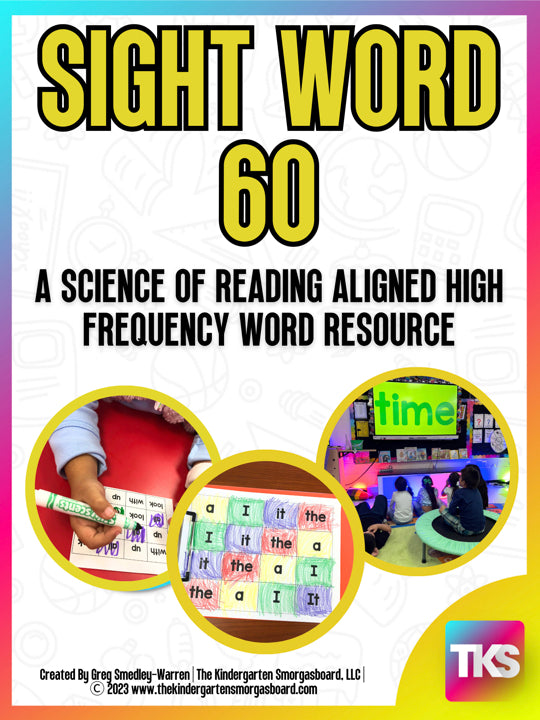 For more information on Sight Word 60, check out these posts:


Sight Word Resources:

SaveSave
SaveSave
SaveSave